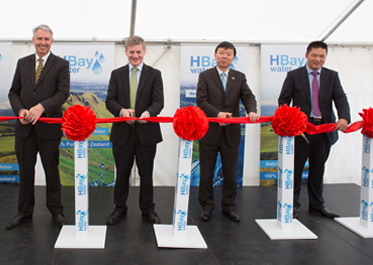 Water plant builds bridges to China
PHOTO: Officially opening NZ Miracle Water's new plant are Tomoana Warehousing director Trevor Taylor, Hasting mayor Lawrence Yule, Deputy Prime Minister Bill English, Chinese Embassy economic and commercial counsellor Fan Zhang and New Zealand Miracle Holding Ltd CEO Xinghong Ju. Photo / Eva Bradley
By Patrick O'Sullivan, Business Editor for Hawke's Bay Today
Click here to read this article on New Zealand Herald
NZ Miracle Water's $20 million water bottling plant is proof Hawke's Bay relationships with China are reaching critical mass, says Hastings mayor Lawrence Yule.
Mr Yule hosted the company's CEO Xinghong Ju and Chinese business associates the evening before Friday's official opening, where Mr Yule showed pictures of his visit to the mayor of their city, Qindao.
Qindao is in the province of Shandong, the home of the owners of Paritua Vineyard and Winery, and Hastings is about to formalise a sister-city relationship with Dezhou, which is also in Shandong.
"They were here six weeks ago and we will conclude that in March," Mr Yule said.
"There is a big connection starting to develop between us and the Shandong province.
We have very similar interests – they are a big province with a huge interest in our food and wine. There is a lot of meat, leather and honey goes there and we have done a lot of work with wine in the province."
He said he was impressed at how quick the Miracle Water plant became operational. The concept was discussed with him 14 months ago and the first sod turned 12 months ago.
David Mackersey of Mackersey Construction said the 8000sq m build on Elwood Rd went well because of "good planning and great clients who knew what they wanted".
Project engineer Strata Group's director Russell Nettlingham said completing a challenging, multi-national project with tight parameters was a good catalyst for future growth.
The joint venture with logistics company Tomoana Warehousing extracts water from a 300m aquifer for export to Asia and the Middle East.
The business employs 26 people but the number will climb to 80 as production increases to its consented 900,000 cubic metres of water – 0.6 per cent of water allocated by the Hawke's Bay Regional Council.
At full production it will make 90 truck deliveries a day of HBay-branded water to Napier Port.
Deputy Prime Minister and Minister of Finance Bill English, who arrived in Tukituki MP Craig Foss' ute, said the plant was partly thanks to New Zealand's free-trade agreement with China.
"Can I acknowledge here the role local government is playing in Hawke's Bay, not just for this project but the long haul through the Ruataniwha Dam project," he said.
"Local government with a positive attitude to growth can make a big difference to the community."